New "Unified" Bill to Replace ENDA
A Left Coast Perspective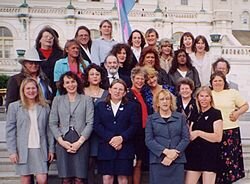 NTAC's lobby days in May, 2001
Since Stonewall, the lesbian, gay, bisexual, and transgender communities have sought essential civil rights and employment protections. In the beginning, they worked together in coalition to achieve their mutual goals, but the coalition rapidly separated into its component parts.
In time, the gay and lesbian communities rejoined and national organizations formed and grew. Ultimately bisexuals were included, then transgenders. Thirty-five years following Stonewall, nearly every major national LGBT organization once again agrees that the entire community working together is stronger than its component parts.
Foremost on the national agenda is employment protection. Bella Abzug demonstrated great courage and conviction in 1974 when she and Edward Koch introduced the first comprehensive civil rights bill banning discrimination based upon sexual orientation.
Since 1974, 22 separate bills have been introduced to protect gays and lesbians from discrimination in the workplace. None of these bills included transgender protections and only once, in 1996, did the Employment Nondiscrimination Act (ENDA) proceed to a floor vote where it was defeated by a 49-50 vote in the Senate. It has never been voted on in the House.
Informed sources anticipate that last years version of ENDA will be reintroduced this year. This spring, according to Paisley Currah of the Transgender Law & Policy Institute, "over 20 national LGBT organizations, including the Human Rights Campaign, NGLTF, the ACLU, all of the national legal organizations, PFLAG, Pride at Work, LLEG, GenderPAC, GLAD, the National Black Lesbian and Gay Leadership Forum, the National Center for Lesbian Rights, and others either signed statements, sent letters, or participated in face to face meetings with the lead Congressional sponsors of ENDA and voiced their strong and unqualified support for transgender inclusion in the bill."
The National Gay and Lesbian Task Force, in particular, has long been supportive of this effort, according to Currah, and was one of the first national groups to publicly embrace and advocate for transgender people. The Human Rights Campaign, while one of the last to adopt a fully inclusive position for civil rights legislation, has increasingly placed its strength and prestige behind fully inclusive employment protections. On June 16, 2003, HRC Executive Director Elizabeth Birch released an Op Ed that clearly emphasized transgender inclusion within its mission.
"This is a tremendously important development." said Currah, "It marks the first time that the entire community has approached the lead sponsors to endorse a unified, inclusive bill. We believe that this has forever altered the political landscape of our national movement."
Despite the lobbying efforts, it appears doubtful that ENDA will be amended to include transgenders. Lisa Mottet, Legislative Lawyer for NGLTFs Transgender Civil Rights Project said, "Congress is not ready to include transgender people in ENDA. The lead sponsors are worried about losing co-sponsors. Here at the Task Force, we know that any expansion of ENDA may result in an initial drop off in co-sponsorship levels for the bill, whether we added domestic partner benefits or added transgender coverage. But, we think that any temporary drop in support for ENDA is absolutely worth it. If it is not done now, the whole movement may regret it."
She went on to say, "Transgender people are simply not expendable from our community, our movement or our legislation. By not covering gender identity or expression, just for short-term political expedience, we cut out parts of our community and not just those who identify as transgender we also cut out major segments of our gender non-conforming gay, lesbian and bisexual (GLB) community. These results are incomplete and unacceptable. There is no such thing as partial equality."
Barney Frank (D-MA) has long been viewed as a major impediment to transgender inclusion in ENDA because he believes that it would fail to address privacy issues, such as bathrooms and communal showers. "Im agnostic on this question," Frank told "Gay City News" on June 12. "Maybe [adding protections for gender identity or expression] wont cause any loss of support. Maybe its an easy inclusion. This is what we have to check and see. People have said Im too pessimistic. Lets see." Frank went on to say, "As long as the Republicans run the House, ENDA will not come up for a vote."
In his interview with "Gay City News," Frank also said, "Connecticut Republican Christopher Shays, one of ENDAs lead sponsors, has already signaled that he will drop off the bill if gender rights language is added."
"Make no mistake," said HRC Executive Director, Elizabeth Birch. "In our hearts and minds, the boards and staff of HRC are committed to including and protecting the transgender community. We will leave no one behind."
"For years," she said, "transgender leaders have been adamant that protection based on gender identity and expression be incorporated into ENDA." "Many of us actually believed there was a better and faster way to achieve protection for gender identity and expression under gender protection laws," rather than seeking them under ENDA.
Since December, HRCs lobbyists "have done yeomans work, advocating with everything theyve got to make this specific change to ENDA." "Make no mistake," she said. "In our hearts and minds, the boards and staff of HRC are committed to including and protecting the transgender community.
"It took decades to educate the country on gay issues," Birch said. "We must now educate America about the bias and discrimination facing our transgender brothers and sisters. HRC working with transgender and community leaders is opting to work with members of Congress to educate them and to develop a new strategy for a fresh unified bill that will address the discrimination faced by lesbian, gay, bisexual and transgender Americans."
"The new bill approach," she said, "may not feel as pure, or as noble, or as emotionally satisfying to some, but we believe that the broader path we are pursuing is the best course of action for our entire community."
In a press conference held June 17, Mara Keisling, Executive Director of the National Center for Transgender Equality said, "We are now at the point in our national LGBT movement where we are no longer fighting each other for transgender inclusion; we are fighting together for equal rights for all of us lesbian, gay, bisexual AND transgender."
The major national groups are working to formulate the wording for the new bill, currently referred to as the "Unified Bill." Neither Currah nor Keisling would describe the intent of the Unified Bill to extend beyond employment protections. An informed source told us, however, that there are intense discussions among the participants regarding content and scope.
Some believe the bill should be limited to employment protections only. Others advocate for inclusion of housing, education, healthcare, and other areas where discrimination are known to exist. During the past decade, ENDA has been sharply reduced in its scope and breadth. Numerous businesses that would have been affected in earlier versions have been excluded in the more recent ENDA versions in an illusory hope of easier passage.
None would predict when the unified bill would be introduced in Congress, nor would they reveal the likely Congressional sponsors. Keisling said that they have found a solution to Representative Barney Franks concerns about privacy issues.
It is uncertain how the pending unified bill will impact ENDA, if it is introduced. Elizabeth Birch of the Human Rights Campaign speaks of a "dual track" that "will not satisfy the hearts of those who have focused on ENDA only as a solution." "This new bill approach may not feel as pure, or as noble, or as emotionally satisfying to some, but we believe that the broader path we are pursuing is the best course of action for our entire community."
Roslyn Manley